How to Eat More and Still Lose Weight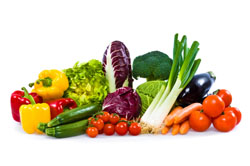 The most important dietary components of the [TAG-TEC]HCG weight loss diet[/TAG-TEC] are to stay low in fat and carbohydrates. [TAG-TEC]HCG diet foods[/TAG-TEC] depend on a low-fat source of protein, a low limit of Melba toast (or Italian breadsticks), and defined types and amounts of fruit. Technically, one of the vegetables – tomato – is also a fruit, so it is limited, too.
What About Vegetables?
I acknowledge Dr. Simeons for his genius and powers of observation in creating this protocol. However, I do not understand certain aspects of the restrictions, especially with respect to the vegetables. So, during my first experience doing the [TAG-TEC]hcg protocol[/TAG-TEC], I experimented to see what could get away with.
The result is that I created a salad that added quite a bit of flavor and volume to my meals without slowing down my weight loss. Specifically, I combined my single tomato with as much leafy greens as I could eat. Lettuce of all kinds and spinach were my favorites. I also added some sliced purple onion to really boost the flavor.
This combination of vegetables is a clear violation of the recommendation to have only one type of vegetable per meal. Nevertheless, I found this recommendation to be unnecessary. Furthermore, my wife, Eve, discovered that she could include as much cucumber as she could eat with her salad, too.
Will This Work For You?
Based ourselves as the first two data points, we have advised dozens of others to explore the super salad as part of their protocol. Everyone who has done so has experienced the same result, meaning that weight loss continued as expected in spite of this dietary violation.
My advice is always to watch your daily weight to make sure that you are on track. If so, then whatever you are doing is working. If you can also get your body fat composition measured every week or so, you can keep track of fat loss, too. This is, after all, the target of the HCG weight loss diet in the first place.
I think that the reason that adding a super salad to the diet is okay is that it does not include additional fat or carbohydrate. Onions and cucumbers, of course, contain sugars. However, the availability of calories from these 'vegetables' is apparently low enough to have no noticeable impact on the results of the protocol.
All the best in natural health,
Dr. D