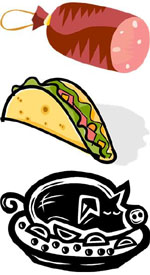 Sometimes a brilliant idea whose time has come just pops out into the light of day. This one entailed putting together some of my favorite foods into a delectable, albeit perhaps unusual, combination. Ultra low on carbs and certain to satisfy your tastebuds (if yours are anything like mine) and keep you on track for your target weight. My wife thinks this dish is gross. What do you think?
The impetus behind this recipe was to devise a new nacho dish – I love nachos! – to replace an earlier one that substituted (soggy) squash slices for chips (HCG Diet Recipes – Great Phase 3 Nachos). As good as that dish is, it doesn't quite hit the spot for me. No matter what I did, I couldn't get the squash slices to be crispy.
Along comes my top 'soul food' – pork rinds. I grew up eating every part of the pig and even enjoyed pickled pig's knuckles when I was younger (still available in major supermarkets). A while back I discovered pork rinds (aka, chicharrones) among all the potato chips and corn chips in the snack section of our local grocery store. They are a great replacement for carb-based chips – great with any dip (especially my famous clam dip, but that's another story). No carbs whatsoever.
So why not pork rinds instead of chips or soggy squash slices for my nachos? I am only surprised that I didn't think of it sooner. It is a wonderful discovery. I can have these nachos as often as I want.
Now to get a little creative … I've also enjoyed liverwurst (Braunschweiger) since I was in lederhosen (and I still am), so it occurred to me to combine a cross-cultural set of my personal favorites into what I now call my German Nachos Soul Food: pork rinds with scattered chunks of liverwurst, with melted cheese and the usual goodies that make nachos so tasty: guacamole, picante sauce, sour cream.
That's really all there is to it, as shown in the photo below. I love this dish. It is not for everybody unless you have a taste for the 'oddities' in the recipe – pork rinds and liverwurst.
Indeed, in my opinion, this is an excellent dish for the hCG diet phase 3, when you have to keep your tastebuds happy without all those tasty (and nasty) carbs that undermine the final phase of the protocol. In fact, this is the kind of easy to prepare and delicious recipe that will serve you well for the long-term, long after you have completed your hCG diet plan.
Now, really…what do you think of my new creation?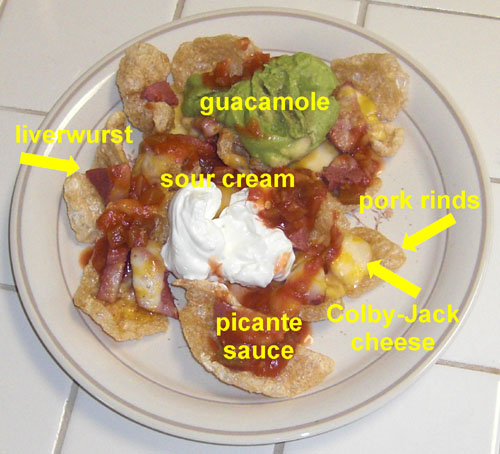 All the best with the hCG diet phase 3,
Dr. D