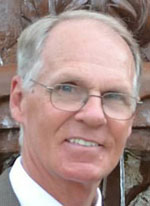 Way too many people, in my opinion, are regaining weight after completing the hCG diet protocol. Even one person would be too many. Weight regain has nothing to do with the old myth of eating too much and exercising too little. It has much more to do with meal spacing. Here is what I mean.
.
.
.
.
.
.
Meal Spacing
Understanding what happens after you eat is the clearest way to grasp when to eat for optimum benefits from food. To keep things as simple as possible, let's just follow the response of the three most important 'players' in this cycle: blood glucose, insulin, and growth hormone (hGH).
The graph below shows you at a glance what your body does in response to a meal.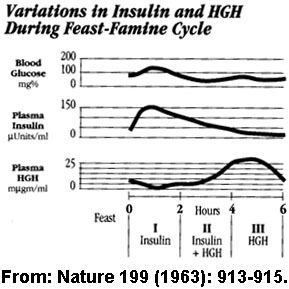 What does this mean for meal spacing?
Here is a little section that I have taken out of my Fat Loss Biology book (see link at the top of this page) that explains what the graph tells you.
Insulin, of course, is the famous protein hormone that most people know as the key to metabolizing blood glucose. It is secreted from the pancreas, starting as soon as a meal is anticipated and spiking within the first hour of eating. Insulin, however, is much more versatile that most people realize. It is the most important starting point for understanding what you must do for maintaining a healthy metabolism.
The reason that insulin occupies such a central role in a healthy metabolism is because it guides glucose into the liver, into skeletal muscles, and into fat tissue. It is like a 'master decision maker' on where glucose goes. It has to remove excess glucose from the blood, which would otherwise become toxic. In doing so, it has to put that glucose somewhere. Wouldn't you just love know how to control what your insulin decides so that you get more glucose into muscle tissue and less into your fat cells or your liver? BINGO! That's like saying, "OK, insulin…today I want you to build more muscle for me."
That is exactly what you do, in effect, when you follow the right eating pattern. This is because of the relationship between insulin and another of the key protein hormones, hGH. As the graph above shows, response to a meal can be viewed in three phases. The first phase, which is well-known to the public, sees a rise in blood sugar and a responding spike in insulin over a time span of about 2 hours after the meal.
During the second phase, from about 2 to 4 hours after the meal, levels of blood sugar and insulin start to drop and levels of hGH start to increase. This is the period of time after a meal when the combination of insulin and hGH acts to build up muscle protein.
The third, or fasting, phase begins about 4 hours after the meal. During this phase hGH remains at a high level, while insulin almost disappears. This is the phase when hGH acts solely to direct the metabolism of fat as fuel.
THE LESSON
Spacing meals to include a fasting period that starts at about 4 hours after you eat is crucial for taking advantage of the anabolic (muscle-building) effects of insulin and the anabolic and fat-metabolizing effects of hGH. The ideal strategy is to allow 5-6 hours between meals. Do not snack.
If you do a little math here, you may immediately realize that spacing meals that far apart doesn't always provide for enough time in the day for three meals. Surprise! Human physiology is not adapted for handling three meals per day. The whole notion that you should eat three meals per day is a modern creation. Moreover, it is a false premise.
Isn't it interesting that the entire mega-industry built on breakfast cereals and other non-foods is based on this false premise? Once again we have a common belief – that is, you must eat three meals per day – a concept that is fueled by the sales and marketing departments of food manufacturers. This concept is designed to benefit their financial bottom line, not your waistline … or any other aspect of your good health, for that matter.
Keep in mind that several other hormones besides insulin and hGH are also put into play once you have a meal. The graph and explanation above about what happens when you eat is just a starting point for understanding what to do for a healthy metabolism.
By the way, guess what happens when you follow the common advice to eat several small meals per day, supposedly to 'fuel your fat-burning furnace'? Just take a look at the graph again and you will see that a high-frequency of meals will interrupt the muscle-building phase (phase 2) that you should be getting from the combination of insulin and hGH. Eating too often also prevents you from ever reaching the fasting phase when hGH directs the metabolism of fat, at least not during waking hours. The typical recommendation to eat breakfast, a mid-morning snack, lunch, a mid-afternoon snack, dinner, and an evening snack is a recipe for a metabolic disaster.
Also consider the negative impact of eating too often. When you eat sporadically throughout the day or eat a series of small meals, your liver has no time to use its stored glycogen (glucose storage polymer) to generate energy. The resulting state of prolonged insulin response completely shuts off the metabolism of fat (i.e., puts you into permanent fat storage mode) and stops weight loss in its tracks. This is also a fast track to insulin resistance and diabetes. Furthermore, one of the responses of such an overburdened liver is the synthesis of excess amounts of cholesterol, even when the diet contains no cholesterol.
Is it any wonder that diabetes, obesity and high cholesterol have reached epidemic levels in modern western society?
Is That All?
No, of course not. However, in chatting with frustrated folks who keep rebounding after the hCG diet protocol, this is one of the two biggest issues that most people are unaware of. (The other one is food composition – i.e., what to eat – a topic that I will revisit soon.)
Stay tuned!
All the best after hCG weight loss,
Dr. D