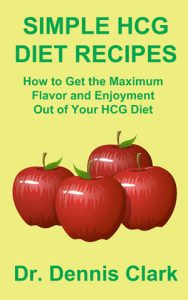 Looking for a simple recipe book for your HCG protocol?
There's no end to the books, blogs, and other assorted sources of information about the HCG diet.
Some even offer recipes that will make the HCG diet much easier to comply with.
Good food enhances your success on the protocol and makes your experience much more enjoyable.
Previously, my favorite recipe book was The HCG Dieter Gourmet Cookbook by Tammy Skye. It provided a brand new dish for every day of the 30-day or 45-day protocol.
That's a bit complicated.
The main drawback to this book was the price, which started out at $39.95 and finally dropped down to $24.95 on Amazon. That's a little steep, don't you think?
If you, like me, prefer a handful of easy-to-use recipes, then you may want to get my recipe book instead. And at a much lower price, too: only $2.97!
I suspect that a half-dozen or maybe 10 recipes will get you through your entire protocol very nicely. Here's a PayPal button where you can order it.
Enjoy!
All the best in natural health,
Dr. D