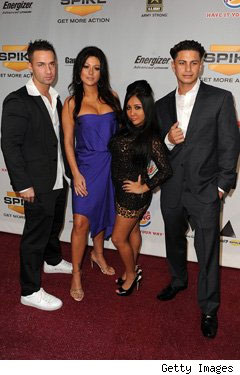 This is pretty entertaining stuff for all of us experienced HCGers. Here is the lead paragraph on the dangerous HCG weight loss diet that Jenni Farley did:
From: ThatsFit.com.
For some reason, ThatsFit does not equate to ThatsThoughtful!
Jersey Shore Star's Dangerous Diet – Jenni Farley
[TAG-TEC]Jenni "JWOWW" Farley[/TAG-TEC] is one of the tan and toned star's of MTV's hit reality show "Jersey Shore." As fans of the so-bad-it's-good show can attest, JWOWW (second from the left in the blue dress) isn't shy about showing off her body. On her Web site, Farley proclaims "HCG Drops are my key to keeping the weight off." And if that really is her stay-slim secret, it seems to be working, considering the amount of airtime she spends in her string bikini. Read more.
[TAG-TEC]Jenny Farley weight loss[/TAG-TEC] seems to be real, based on the [TAG-TEC]HCG diet[/TAG-TEC].
The Experts?
I'd bet money that you can find at least three major flaws in this article, including one gigantic contradiction. The 'weight loss experts' who are supposed to bring credibility to this article are, of course, wrong regarding the [TAG-TEC]HCG Weight Loss Diet[/TAG-TEC].
Remarkable, isn't it? At least I hope you enjoyed the irony of it like I did.
All the best in natural health,
Dr. D