HCG diet foods for phase 3 should be simple, nutritious, and delicious. In fact, comparing different ways to have lunch during phase 3 shows you how to eat for the rest of your life and enjoy your food to the fullest. Here is how to make good choices for lunch. Anybody hungry yet?
I have to give credit to my cousin Mo for suggesting that I look into my copy of The South Beach Diet to see whether any of the advice there might be useful for HCG dieters. The answer is a resounding YES! For example, the following table is adapted from what the author calls, "The South Beach Lunch Makeover." Here is what a phase 3 lunch can look like when it is Bad, Better, and Best.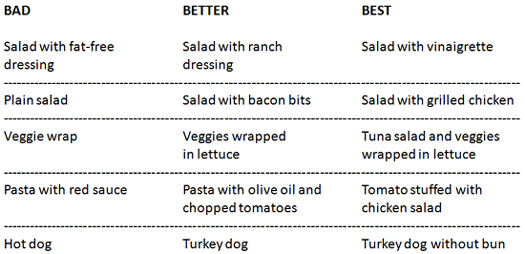 .
Wow! Is that all it takes! You bet!
Best of HCG diet foods,
Dr. D