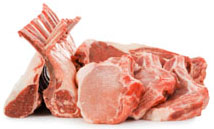 HCG side effects include protein deficiency immediately after finishing a protocol. It is not a good idea to continue dieting, especially regarding protein intake. Here is what you can expect and what to do about it.
whiteHCG Side Effects After the Protocol
This is a common diet trap that, fortunately, is easy to reverse. Here is what Dr. Simeons had to say about quick weight gain due to protein deficiency right after finishing a very low calorie diet while on his hCG protocol (from his book, "Pounds and Inches" [1971 edition]):
You will not suffer from a deficiency of carbohydrates – ever! – or of fats. However, you must make sure to take in plenty of protein, especially in the critical 3-week period of what is now called Phase 3 of the hCG diet plan.
Updating hCG side effects,
Dr. D