Confusing the HCG hormone with steroid hormones such as estrogen and testosterone is a common mistake. Here is what you should know about why these kinds of hormones are different from one another.
Hormones are simply types of biochemicals that are made in one place in the body and sent to another place, carrying a signal for some kind of action. They typically work at very low concentrations. Estrogen, for example, is made in several places in the body. Estrogen receptors – the places where estrogen arrives with action signals – occur in specific areas such as bones. Estrogen receptors in bones govern bone growth.
Estrogen is in a class of molecules called steroids. This class also includes testosterone, DHEA, progesterone, cortisol, and about 150 additional biochemicals. Bear with me, since I am a biochemist, because I always like to show pictures of chemical structures whenever I can. The picture below is of estradiol, which is one of the estrogens, just to show you what I am talking about. I drew this structure myself. It is a simple and easy chemical structure that can be drawn by hand.

Other streroid hormones share the basic outline of this one of estradiol.
HCG Hormone
In contrast, HCG is a protein hormone. That means that the biochemical structure is a very complicated one that consists of many amino acids linked to one another. In fact, HCG is comprised of two groups of amino acids. I'll just give you a quick peek into how the biochemists describe it according to Wikipedia: Human chorionic gonadotropin, as follows:

Human chorionic gonadotropin is a glycoprotein composed of 244 amino acids with a molecular mass of 36.7 kDa. Its total dimensions are 75×35×30 Angströms (7.5×3.5×3 nanometers).
It is heterodimeric, with an alpha subunit identical to that of luteinizing hormone (LH), follicle-stimulating hormone (FSH), thyroid-stimulating hormone (TSH), and beta subunit that is unique to hCG.
The ? (alpha) subunit is 92 amino acids long and has dimensions 60×25×15 Angströms (6×2.5×1.5 nm).
The ?-subunit of hCG gonadotropin contains 145 amino acids and has dimensions 6.5×2.5×2 nm, encoded by six highly-homologous genes that are arranged in tandem and inverted pairs on chromosome 19q13.3 – CGB (1, 2, 3, 5, 7, 8).
The two subunits create a small hydrophobic core surrounded by a high surface area-to-volume ratio: 2.8 times that of a sphere. The vast majority of the outer amino acids are hydrophilic.
Whew!
Among all that gobbledygook, which I love, is the message is that this is a very complicated protein hormone. In fact, I had to grab the following image from Wikipedia because it is too complicated for a little ol' biochemist like me (or any biochemist for that matter) to draw by hand. This image, which is only the beta subunit of HCG, was drawn by a computer program that was created for drawing protein structures.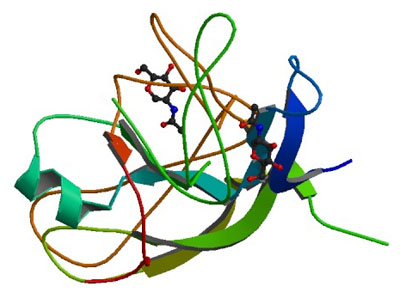 Okay, I feel like I got my biochemistry fix for the day. Thanks, and my admiration, if you've read this far. I promise that I won't need to get real technical like this again for another couple of weeks.
All the best on HCG hormone,
Dr. D -->