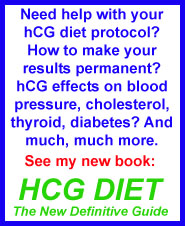 .
HCG DIET – THE NEW DEFINITIVE GUIDE. Need help, advice, or answers that you just can't seem to find anywhere? This guide puts everything in one place, including a scientist's (mine) evaluation of scientific research on the hCG diet protocol. It contains some surprises, such as the difference between men and women on the protocol, the effects of the hCG diet on diabetes, cholesterol, blood pressure, and steroid hormones.
Unique this book on hCG is the extensive advice on what to do after you have reached your target weight. The hCG protocol is not a one-and-done strategy. You can yo-yo back to overweight if you don't know what to watch out for and know exactly how you must eat and live to stay slim and healthy permanently. It offers clear and easy lifestyle strategies for life.
Purchase of this book comes with free downloads of the two recipe books below and with the 1971 revised edition of Dr. Simeons' book. This is the latest edition, with Dr. Simeons' most up-to-date advice on the protocol.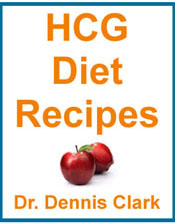 .
HCG DIET RECIPES. Let me start off by telling you about my own recipe book. I wrote it, so I am kind of partial to it. If you want an inexpensive and easy to use recipe book for making your HCG experience much more enjoyable, you will like my favorite recipes. You will learn some great ways to put flavor into all of your meals and never be hungry!
This book comes as a free bonus when you order HCG DIET – THE NEW DEFINITIVE GUIDE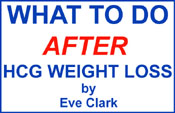 .
AFTER HCG WEIGHT LOSS. The most common missing component for the success of the HCG diet is how to stay at your target weight permanently. The HCG protocol is not magic. You have to know what to do afterwards – for Phase 3 and beyond. Eve has put together the most important post-HCG advice and recipes that I have ever seen in one place. (Of course, I might be biased since I am married to the author!)
This book comes as a free bonus when you order HCG DIET – THE NEW DEFINITIVE GUIDE.