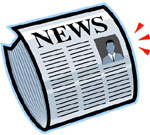 HCG drops are all the rage. Unfortunately, some products are total fakes. Here is one example that is being advertised heavily in newspapers. Buyer beware!
.
.
.
.
HCG Drops – The Allure
What a great headline this ad is from my local newspaper (see below)! Who wouldn't put down their morning coffee and look at this for a moment?
Could it be true? Can you get paid for losing weight? Can this hCG product be the miracle that you are looking for? The website for SimplePure HCG Drops offers a lowdown price of $69.99 to 'Buy 1 get 1 Free'. Of course, that makes no sense if you are going to get paid to lose weight.
Anyone game for calling these folks up to see what the real deal is? By the way, I've listed the ingredients of this product after the ad. Take a look at the list before you take any action here.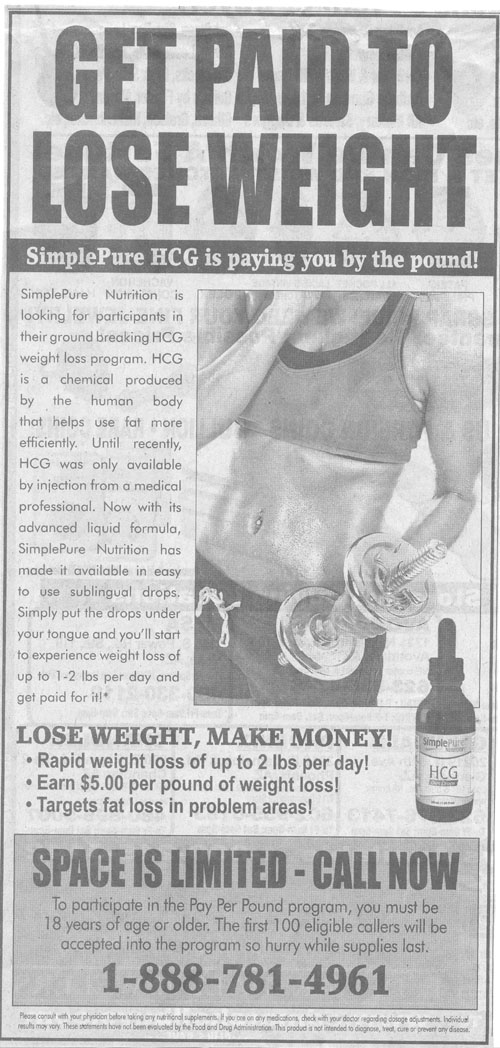 Ingredients
Apologies for the poor quality of this image. The good folks at SimplePure Nutrition made it very difficult to get a good, clean copy that is large enough to see the list. Nevertheless, I've given you a hint in red letters next to it.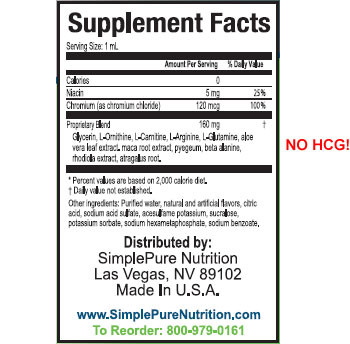 I am kind of speechless about such blatant fraud. The website at SimplePure Nutrition makes the issue even worse by talking about all the great results that people get from the original Simeons hCG diet, although their product has nothing to do with it whatsoever.
Noting hCG drops scams,
Dr. D