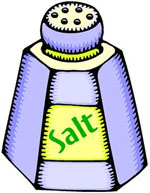 The hCG diet plan does not restrict salt. Indeed, any advice about cutting down on salt for reducing weight is bad. Here is why.
.
.
.
.
.
.
.Importance of Salt
Regardless of what you hear about so-called 'deadly' salt, if you don't get enough you will put your body into stress mode. This can even cause weight gain. Here is a quote from Dr. Simeons' book, "Pounds and Inches" (1971 revision), that is still good advice regarding salt and weight loss:
That is a good point about 'illusory weight losses' – i.e., those caused by diuretics that merely cause your body to dehydrate (desiccate). Not good.
The bottom line is, keep up regular salt intake and accompany it with plenty of water. Simple.
All the best with the hCG diet plan,
Dr. D