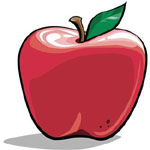 The hCG diet plan got some real science behind it in 2011. New research data show the accelerated loss of fat mass, just as the original protocol by Dr. Simeons has been doing for more than a half a century. Here is what you can expect based on this new research.
.
.
.
.

HCG Diet Plan Research Update
If you peruse the National Institutes of Health medical database (PubMed) like I do, you will find this article by searching on the phrase 'hcg weight loss'.
Here is the full reference information and published abstract. I will comment below on what it means (i.e., translate it from scientific jargon into English).
Int J Med Sci. 2011;8(6):445-52. Epub 2011 Aug 1.
Effect of weight reduction on cardiovascular risk factors and CD34-positive cells in circulation.
Mikirova NA, Casciari JJ, Hunninghake RE, Beezley MM.
The Riordan Clinic, 3100 N, Hillside, Wichita, KS, USA. nmikirova@riordanclinic.org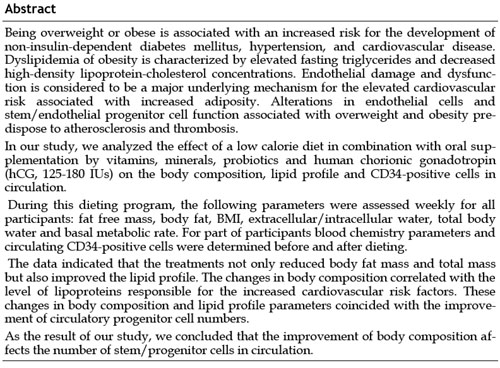 The data of primary interest here are those of weight and fat mass. The key quote from the abstract regarding these data is: The data indicated that the treatments not only reduced body fat mass and total mass but also improved the lipid profile.
If you are more of a visual person like I am, take a look at the original graph in this article, summarizing the key data here: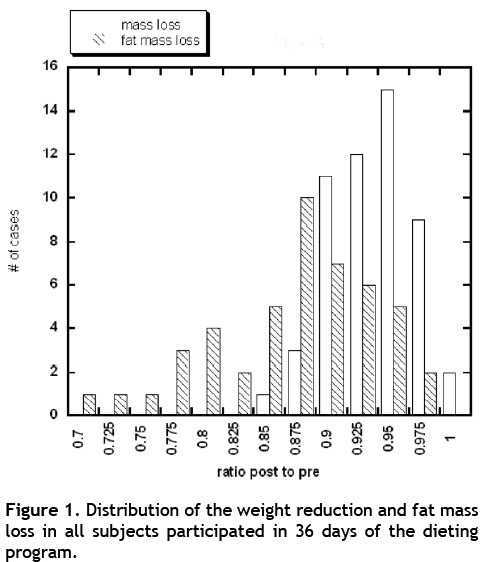 The Simeons protocol was, of course, directed at weight loss. However, the results of his protocol are distinguished from the majority of weight loss programs by emphasizing the loss of abnormal body fat. This means loss of fat mass. The graph clearly shows what the hCG diet plan is supposed to do – i.e., lead to weight loss AND fat loss. In so doing, it confirms earlier research published in the 1960s and 1970s regarding weight loss, and it further shows evidence that the lost weight consists of fat.
The remainder of the article, including the title, are a bit complicated. I will post on these other aspects of the study soon. Suffice it to say for now that the improved lipid profile, which Dr. Simeons predicted, and the boost in CD34-positive cells are added benefits of the hCG diet plan.
The Original Article
Occasionally professional journals release their signature articles to the public without charge (otherwise, they can cost upwards of 25 dollars or more to download). This is fortunately the case with this article. For those brave souls who want to see what all the details look like, from experimental design to data analyses, you can download the full article through PubMed in pdf format here:
http://www.ncbi.nlm.nih.gov/pmc/articles/PMC3156990/pdf/ijmsv08p0445.pdf
It is enjoyable to read a full article like this one. If you have any questions about it, just let me know at the end of this post (see Leave a comment below).
Who Does HCG Diet Plan Research?
Research institutions have mostly lost interest in doing research on the hCG diet plan since the 1970s. The majority of studies now involves the molecular mechanism of action of hCG, especially how it might interact or complement leptin, our master fat hormone, in the hypothalamus.
It came as a pleasant surprise, therefore, to discover that the clinic behind the study of interest for this post does real research. They do have a vested interest in the results. However, their research spans many other areas of importance to human health. A list of their publications is available on their website here:
Riordan Clinic Research Articles
It is an impressive list of studies, all of which are published in reputable medical journals. When judging the overall quality of research by any research group, this kind of professional pedigree is an important consideration.
Updating research on the hCG diet plan,
Dr. D