The HCG apple day is almost miraculous when it works the way it is supposed to. Here are the main pointers for when to use it, how to use it, and what to expect out of it, especially if you interrupt the protocol.
HCG Apple Day by Dr. Simeons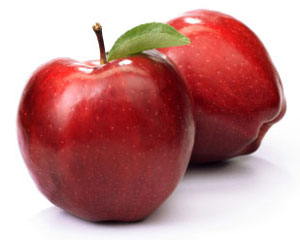 Dr. Simeons wrote the following in his 1954 book, Pounds and Inches:
The Plateau
The second type of interruption we call a "plateau." A plateau lasts 4-6 days and frequently occurs during the second half of a full course, particularly in patients that have been doing well and whose overall average of nearly a pound per effective injection has been maintained. Those who are losing more than the average all have a plateau sooner or later. A plateau always corrects, itself, but many patients who have become accustomed to a regular daily loss get unnecessarily worried and begin to fret. No amount of explanation convinces them that a plateau does not mean that they are no longer responding normally to treatment.
In such cases we consider it permissible, for purely psychological reasons, to break up the plateau. This can be done in two ways. One is a so-called "apple day." An apple day begins at lunch and continues until just before lunch of the following day. The patients are given six large apples and are told to eat one whenever they feel the desire though six apples is the maximum allowed. During an apple day no other food or liquids except plain water are allowed and of water they may only drink just enough to quench an uncomfortable thirst if eating an apple still leaves them thirsty. Most patients feel no need for water and are quite happy with their six apples. Needless to say, an apple day may never be given on the day on which there is no injection. The apple day produces a gratifying loss of weight on the following day, chiefly due to the elimination of water. This water is not regained when the patients resume their normal 500-Calorie diet at lunch, and on the following days they continue to lose weight satisfactorily.
The other way to break up a plateau is by giving a non-mercurial diuretic for one day. This is simpler for the patient but we prefer the apple day as we sometimes find that though the diuretic is very effective on the following day it may take two to three days before the normal daily reduction is resumed, throwing the patient into a new fit of despair. It is useless to give either an apple day or a diuretic unless the weight has been stationary for at least four days without any dietary error having been committed.
What This Means for You
The key thread that weaves between the lines is that the plateau that happens normally during the protocol is associated with fluid retention. That is why a diuretic works. An apple day has the effect of acting like a one-day diuretic, although the return to normal progress is immediate after an apple day and delayed 2-3 days after a diuretic drug day.
Gaming the Protocol
This is where I, and others I know, have done some experimentation to test the limits of the apple day. We found that, as expected, going off of the protocol for a day, or in my case even 3 days, stops progress and even leads to weight gain.
I'll have to admit that I wanted to partake of the weekly tailgater … chips, dip, beer, etc. … at a recent football game, which turned to be my 'experiment'. It was the third day in a row that I had interrupted my protocol (i.e., included a nice anniversary dinner one night and a holiday party the next night, just before the Sunday tailgater).
The result was that by Monday morning I had regained 4 pounds. I hadn't been entirely foolish and loaded up on carbs and fats for three straight days. Just a lot of good food and beer (okay, and some wine). Great experiment so far!
The apple day brought on a fluid flush that woke me up 3 times in the night and kept me pretty close to the men's room most of the next day. Weigh-in on Tuesday put me right back where I started before the 3-day personal Bacchanal. And my progress continued at one pound per day after the apple day.
Can You Do This?
My experiment showed what my body will do, and your body may be different. I already know that women typically do not lose as fast as men, so this gender pattern may also influence how well the apple day works when you interrupt the protocol. Other variables will undoubtedly have some influence. The only way to find out is to do your own experiment.
My advice, however, is to avoid any unnecessary interruptions if you can. That is always going to be the best strategy, although I know that gaming the protocol can work if need be.
Best of the HCG apple day to you,
Dr. D