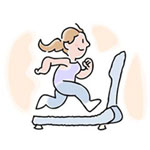 The topic of weight loss exercise during the hCG protocol has attracted a lot of hooey – misinformation, wild unsupported claims, crazy advice, and much more. The facts are that, just as with any other weight loss protocol, the benefits of exercise are highly variable among different people.
QAD5ZG88C8EB
On one extreme, muscle-bound fitness gurus advocate intense exercise of the type that is typified by the popular P90x program. In the other extreme, testimonials in many blogs explain how successful people can be during the hCG protocol without doing any exercise at all. The optimum exercise for you or anyone else probably lies somewhere in between.
The most important consideration regarding exercise, whether during the hCG protocol or not, is maintaining or building a certain level of fitness, which depends on your starting point. If you are a confirmed couch potato, that is your starting point. If you have always exercised vigorously, weightlifting or running, etc., then that is your starting point. Regardless of where you are at the beginning, you can most certainly benefit from exercise during the protocol. This can mean almost anything as long as you are not sedentary.
Make Weight Loss Exercise Fun!
How about checking into using a Wii? Here is what Brian M. Connole suggested at HCG Diet 411 recently:
You'll Have So Much Fun Doing This You Won't Even Realize You're Burning Calories!
There are lots of difent ways to get in shape these days — You can work out at places like Gold's Gym or 24 Hour Fitness, go on walks, or maybe do some Yoga like I have suggested before.

The only problem is that most of the techniques that people use to get in shape are boring and take a lot of time and energy.

However, there is another way to burn calories that's a lot more fun and takes much less energy than going to the gym. I am of coarse talking about playing video games on the Nintendo Wii.

I know it may sound silly, but it's true. For Christmas in 2010 my father in law gave my kids a Wii as one of their gifts. At first I didn't take much interest in it. But when I did finally start playing it with the boys I actually broke a sweat. And when I woke up the next morning my arms were surprisingly sore.
So now we make it a point to play these types of games as a family; especially during the winter months or when the weather is bad. This way we can still remain a little active when it's too cold to go outside.
Now this won't happen with every Wii game out there — The best games to play if you want a bit of a work out is the sports games. There are even games that have been specifically developed for getting in shape.
In fact, you may have heard of Wii Fit Plus, which gives you yoga, strength training, aerobics, and different types of balance games. Wii Fit is so effective it is even being used in various health clubs across the country and around the world.
The best part about playing these types of games on the Wii is that you can spend a lot more time with your children while teaching them the importance of exercise.
And be sure to check out Wii Fit Plus as well as the many different sports games available for the Nintendo Wii.
Don't yet have your own Wii? Don't worry, you can find them at places like Target, Walmart, Best Buy or even right here on Amazon.com for really good deals and free shipping.
Having fun with weight loss exercise,
Dr. D
QAD5ZG88C8EB